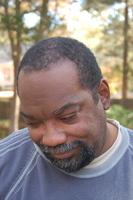 Fred Moten, asked why he chose to focus on last year's events in Ferguson, MO at a panel he led on improvisation, asks: how could we not? Moten goes to note that improvisation, often thought glibly to be pure freedom, is really a response to a necessity, the necessity to act in favor of freedom. He goes on to talk about the sense of a fork in the road, of a possible profound homelessness for a community whose rights were still ignored. In that context, Moten underscored the continuing relevance of the trials of Odysseus and his journey home—echoing a connection the painter Romare Bearden made in his reinterpretation of the Odyssey. In the process, Moten weaves the subject of political and social action with the musical and cultural practice (as Bearden too intended).
The interview was conducted as a part of a series of events honoring Romare Bearden's "Black Odyssey" collages and watercolors and their relevance to contemporary understanding of classics such as Homer's epic poems.
Fred Moten is Professor of English at the University of California at Riverside and a frequent collaborator with the Center for Jazz Studies.