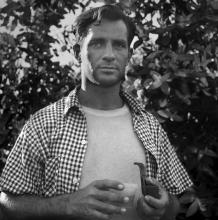 This panel took an interdisciplinary look at poet and novelist Jack Kerouac's little-known writings on jazz, and his improvised voice-over and composer David Amram's soundtrack to Pull My Daisy, the 1959 landmark in new American cinema directed by Alfred Leslie and Robert Frank.
Discussants included David Amram, an associate of Kerouac's and of other Beat Generation writers, as well as Sara Villa of the Università degli Studi di Milano and John Szwed, Professor of Music and Jazz Studies at Columbia University.
George Avakian, the producer responsible for Miles Davis' and many other musicians' highly regarded works on Columbia records, also shared his thoughts on the importance of Kerouac's record reviews.
The event took place on March 10, 2009 at Columbia.