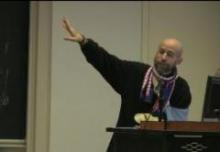 This panel of philosophers met to explore the ethics of improvised conduct. Arnold Davidson, University of Chicago and University of Pisa, gave the opening talk.
Discussants included Eric Lewis, McGill University; Lydia Goehr, Columbia University; Bernard Gendron, University of Wisconsin-Milwaukee; and Lorenzo Simpson, Stony Brook University. The panel was introduced and moderated by Carol Rovane, who is Chair of the Department of Philosophy at Columbia University.
The panel took place on Thursday, November 13, 2008.